30 Nov

Act! Premium v25 Promotion – Upgrade Your Act! PRO or Act! Premium Software
Act! Premium Desktop Self-Hosted Software
Act! Software is running an Act! Premium v25 Promotion for Act! Premium Desktop Self-Hosted 1 year subscription at $380/user – this is a $70 savings off of $450 MSRP. This offer is only for previous Act! Pro and Act! Premium owners that currently are not on an active subscription.
Act! Premium Desktop Self-Hosted includes Windows and Web Software that you install and run on your computers and network.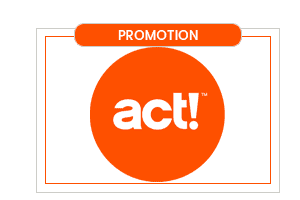 Act! Premium Subscriptions include both Act! Premium CRM and Basic Act! Email Marketing Automation.
Act! CRM helps you with building relationships with your potential and existing customers. And Email Marketing is a great way to stay engaged to drive new business. The business need of having both CRM and Emarketing technologies is growing. Now Act! is including basic Email Marketing with their Act! Premium subscription product.
Managing multiple software solutions can be expensive, complicated and time-consuming. By having to manually upload your marketing lists or import the results in a separate system. The value of Act! CRM with Email Marketing together in a single integrated platform is that all your data and results reside in your Act! database. Just like their CRM software, the Email Marketing system is easy to use. You will be able to send professional looking emails that promote your business. Over all without a big budget or marketing expertise.
With an Act! Premium subscription you'll get updates as they're released. As well as access to subscriber-only features and apps. Also expert technical support, and more! Hurry, this special offer ends soon!
Act! Premium 1 Year Subscription includes:
Act! Premium Desktop Self-Hosted CRM Software with Software Updates
Basic Email Marketing with 2,500 Emails/Month per Account
Act! CRM and Email Marketing Video Training Libraries
API Features including Act! Companion Mobile App
Act! Technical Support
UPGRADING YOUR ACT! SOFTWARE IS EASY – Backup your database and then install your software. Next open your database and it will update. For more information, please see the article: How do I upgrade to Act! v25 from a previous version.
ORDERING ACT! SOFTWARE WITH THE ACT! PREMIUM PROMOTION IS EASY – Visit our store and order online! If you are not a previous actplatinum.com customer, you will need to provide your Act! Software Legacy Previous Version (Pro, Act! by Sage, Premium or Premium for Workgroups) Act! Serial Number (Help Menu, About Act!) at checkout in the "Additional Information" box to qualify for the Act! Premium Promo pricing. Make sure you review the Act! System Requirements before purchasing:
offer valid until 12/29/2023
If you have questions click the CHAT button or click the link to visit our Contact Us web page.