15 Sep

Act! Marketing Automation and WHY Your Business Needs It
CRM and Marketing Automation in a Single Solution:
Have you heard of Marketing Automation? In the past several years Marketing Automation technology has been booming simply because automated workflows allow businesses to maximize engagement, drive business growth, and increase productivity by saving time and energy from tedious and manual tasks. Act! Marketing Automation enhances productivity with the ability to deliver a custom and personal customer experience to your clients, leads, and prospects. When used in tandem with Act! CRM you'll get a comprehensive view of your sales and marketing activity that allows you to prioritize leads, create a unique and dynamic experience, and optimize all the ways you communicate with your prospects and customers.
With all this in mind it's no wonder that 51% of companies use Marketing Automation and the growth of this technology is increasing every day.
Most email marketing systems only offer the fundamental basics while Act! Marketing Automation presents a full slate of state-of the art features that help you save time while delivering a personalized experience to your customers. You can find more information on these powerful features at: https://actplatinum.com/act-marketing-automation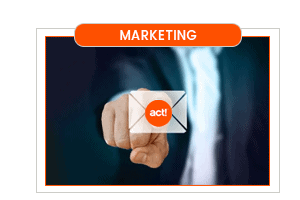 These Act! Marketing Automation features help you elevate your sales and marketing game by enhancing how you do business in terms of customer engagement and satisfaction. You can benefit from Act! Marketing Automation in many ways including:
Integrating your Act! CRM with Act! Marketing Automation
Increasing ROI
Boost Customer Experience & Retention
Increasing Sales
Increase Productivity and Results
Benefits of CRM and Marketing Automation
Integrating your Act! CRM with Act! Marketing Automation
Act! CRM and Marketing Automation is your go-to sales and marketing platform. You gain a more comprehensive view of your client relationships and engagement levels when all your contact details and marketing data is combined into one software. No toggling between multiple spreadsheets and programs when it is all centralized together into one hub.

Increasing ROI
How can you increase your ROI? By knowing how effective your marketing efforts are and where performance levels are standing. With Act! Marketing Automation you can get a clear picture of your KPI's by gauging your automated workflows and finding out what works and what could use improvement.

Boost Customer Experience & Retention
Track the sales trail of your customers and personalize their buying experience. Act! Marketing Automation allows you to create customized emails based on criteria and triggers you define in Act!. Each customer is different, and each shopping experience is unique and individual to them. A one-size-fits-all sales approach isn't going to work for everyone. Act! allows you to keep track of individual buyer personas and therefore personalize your outreach to them. This enhances the buying experience and ultimately boosts customer retention.

Increasing Sales
You don't want to waste time and energy on the wrong leads or push a prospect who isn't ready to buy. Identify your most interested prospects with lead scoring based on campaign engagement, survey/web form responses, and website interactions. Prioritized leads can be targeted for easy sales follow-up. Act! Marketing Automation can also identify prospects on your website in real-time so you can engage with them when they are most interested.

Increase productivity and results
Having your sales and email marketing integrated increases accessibility and visibility- allowing your business to measure and analyze the effectiveness of your sales and marketing efforts. Act! gives you insight of these results with visual snapshots of real-time metrics covering sales productivity and performance, sales pipeline health, top performing products, win/loss analysis, and more with interactive, graphical dashboards so you can improve your tactics.
With its convenience and affordability Act!'s all-in-one sales and marketing software allows you and your team to manage your internal processes easily compared to the burden of juggling multiple software solutions. Act! CRM and Marketing Automation allows you to compile and utilize customer data to step up your sales and marketing game by creating a comprehensive picture of your prospects, leads and customers. Optimize all the ways you communicate with prospects and customers to maximize engagement, revenue and drive business growth.
If you have questions or want to hire us to help with your CRM and Marketing Automation click the CHAT button or click the link to visit our Contact Us web page.