15 May

PRESS RELEASE: Action Platinum Solutions Name Change
Platinum CRM Consulting Announces Company Name Change to Action Platinum Solutions and Completion of the Act! Marketing as a Service Certification
SCOTTSDALE, Ariz., May 15, 2020 – Platinum CRM Consulting, an Act! Software Diamond Preferred Partner and a leader in Vertical Solutions for the Act! Growth Suite product line, announced today that it is changing its company name to Action Platinum Solutions. The name change reflects the company's broader commitment and its ability to provide businesses not only CRM services but also marketing services.
In conjunction with the name change, Action Platinum Solutions is also announcing their successful completion of Act!'s Marketing as a Service (MaaS) Certification. As the first Act! Partner to complete the program they are leveraging their sales and Marketing Automation knowledge to assist their mutual customers in getting the most from the Act! software and fueling their business growth.
"The new name – Action Platinum Solutions – allows us to emphasize our wide-ranging offerings of CRM, Marketing Automation and Vertical Solutions changing the way we help our customers to grow their businesses with the goal of increasing their bottom line, lowering costs and improving quality of service," said Debora Boyle, President of Action Platinum Solutions. "As a company with its roots in technology, we are committed to expanding our expertise with the MaaS Certification in order to deliver the integrated products and services to businesses that will help connect all the touch points in their customer care continuum."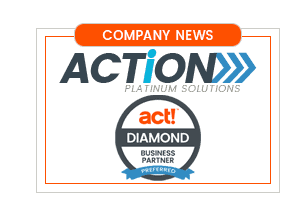 About Action Platinum Solutions
For over 2 decades, Action Platinum Solutions has been a top Act! Certified Consulting company exclusively representing Act! software and provides CRM and marketing services to businesses of all types in the United States and Canada. Act! is an affordable software and Action Platinum Solutions also has Vertical Solution products available for Commercial Real Estate, Residential Real Estate, Finance, Insurance and Mortgage. These industry-specific solutions are for the Act! Growth Suite product line and provide added functionality that capture key data and increase the value of an Act! subscription.
About Act! Software
Act! Software has been a pioneer in the SMB CRM market with millions of customers in over 100 countries trusting Act! to run and grow their business. Today, Act! Growth Suite offers the rich CRM and Marketing Automation functionality, unparalleled flexibility and exceptional value for every SMB no matter where they are on their growth journey.
Act! logo and brand name are trademarks of Act! LLC, or its affiliated entities.
Media Contact:
April Leeland
Phone: 877-228-7528
Email: [email protected]