15 Jun

4 More Reasons to Upgrade Act! v25 Premium Software
What's new in Act! v25 Software
Act! is perfect for small and midsize businesses looking to market better, sell more, and create customers for life. With unparalleled flexibility and freedom of choice, Act! accommodates the unique ways you do business. Upgrade Act! Premium Software – below lists the major feature updates to Act! Software over the last few releases.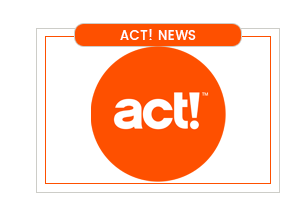 Act! is a leading customer relationship management (CRM) and marketing automation solution for small to medium-sized businesses (SMBs) and has launched v25 of Act! Premium Desktop to offer users richer insights, better communication, and enhanced usability. With v25, users will gain more meaningful insights from their customer data with the Act! Insight Dashboard Builder, take customer communications to the next level with the integration of SMS4Act! SMS Text Messaging and increase overall performance with marketing automation and Act! Companion mobile app enhancements. With the launch of Act! Premium Desktop v25, users can expect the following:
New Act! Insight Advanced Dashboard Builder – Actionable insights are vital to success as they enable businesses to learn more about their customers. However, insights that are valuable to one business may not be valuable to the next. That's why Act! has introduced an advanced dashboard builder to Act! Insight, which allows users to quickly create more granular, custom analytics dashboards so they can visualize more of their data, gain more meaningful insights and react quickly to changing business conditions. With v25, users can create new dashboards based on contact, company, group, and opportunity data; incorporate associated field data; and set multiple sets of criteria to thoroughly drill down into the insights that matter most.
Integrated SMS4Act! SMS Text Messaging – Text messaging is an affordable and efficient way to reach customers and prospects alike. With open rates more than 4x greater than traditional email (98% vs 22%), it's effective as well, allowing even the smallest businesses to compete with much larger competition. While text messaging is currently available as part of Act! Marketing Automation for U.S. customers – allowing businesses to send personalized text messages to customers for appointment reminders, order updates, shipping status, event reminders, promotions, and more – SMS4Act! allows users to send ad-hoc text messages globally without having to build a full-fledged marketing campaign. All sends and replies are automatically tracked within contact history records for reference and follow-up.
Enhanced Act! Marketing Automation Usability – Act! Marketing Automation has something for businesses large and small, from professional outbound marketing tools to dynamic campaign automation, response-driven sales activity creation, and much more. As part of Act! Premium Desktop v25, Act! Marketing Automation is more intuitive and user-friendly for all users. Improvements include an enhanced campaign dashboard, new suppression list filters, additional date formats for mail merge, and improved list sorting.
Act! Companion Enhancements – Available for iPhone®, iPad®, and Android™, the Act! Companion mobile app keeps users connected to their Act! database from anywhere. To improve the overall mobile app experience for all Act! users, enhancements have been made to the login experience, opportunity filtering and Act! proximity search.
HIGHLIGHTS FROM THE PAST SEVERAL ACT! PREMIUM SOFTWARE VERSIONS

Act! v24 delivers improved performance via a 64-bit native architecture, while user-driven Office integration enhancements bring optimized usability. New marketing automation capabilities enable greater collaboration and drive dynamic marketing outreach with intelligent follow-up. Upgrade with confidence to Act! v24 – rigorously vetted for quality and user experience. Ongoing updates – including support for Windows® 11 – ensure you always remain compatible with the latest hardware and operating systems.

Act! v24 Major Enhancements:
New 64-bit Architecture – Windows & Web

Act! v24 capitalizes on the inherent benefits of today's 64-bit hardware and operating systems – gaining full access to all available system memory for superior speed, performance, and scalability. Multi-task, perform high-load functions, and support large files and data sets without memory issues via access to virtually unlimited RAM with a 64-bit native application vs. 4GB with a 32-bit application.
Windows® 11 & Office 2019 Compatibility

Run Act! v24 on Windows® 11 for the latest usability and security enhancements from Microsoft® – set to release in Q4 2021. Additional compatibility updates include support for Office 2019 and SQL Server 2019. Your Act! subscription ensures ongoing compatibility with current hardware, software, and operating systems for maximum productivity and peace of mind.
Office Integration & Marketing Automation Enhancements

Enhance the effectiveness of your marketing efforts with new collaboration and design tools, intelligent A/B testing, and automatic follow-up actions based on marketing engagement score. Streamline common relationship management tasks between Act!, Outlook, and Word for maximum efficiency. Act! v24 uses 64-bit integration for Outlook and Word add-ins, allowing for optimal performance and scalability.

Act! v23 delivers performance and usability enhancements across the solution, designed to streamline and optimize the user experience to ensure maximum productivity. Act! v23 delivers numerous targeted improvements to high-usage areas, based on extensive input and validation from Act! customers and partners across the globe. Upgrade with confidence – Rigorously vetted and market-tested, Act! users can upgrade with confidence to v23 and realize the benefits of a revamped Outlook Add-in, a new Word Add-in, innovations in Act! Marketing Automation, and more.

Act! v23 Major Enhancements:
Act! Marketing Automation Innovations

Take your marketing to new heights with Preference and Unsubscribe Centers, new Folders and Teams capabilities, and numerous enhancements to help you effectively get the word out and stay in touch with customers.
Revamped Outlook and Word Add-Ins

Interact seamlessly with the tools you rely on every day. Revamped Outlook and Word Add-ins streamline daily tasks for maximum productivity.
User-Driven Performance & Productivity Enhancements

Benefit from performance and usability enhancements across to the solution, based on extensive input and validation from Act! customers across the globe – rigorously vetted to ensure quality.

Act! v22 encompasses numerous improvements to enhance the user experience of Act! no matter where it has been deployed, whether than be via desktop, web or cloud.

Act! v22 Major Enhancements:
User Experience & Performance Enhancements

Benefit from 240+ enhancements across the product suite including a re-styled Opportunity pipeline view, an enhanced Outlook® add-in ribbon with 64 bit compatibility, increased start-up-speed, and much more.
Pre-Built Marketing Asset Library

Drive effective outreach with categorized, pre-built marketing campaigns, templates, and landing pages with guided setup in Act! Marketing Automation. Plus, leverage new captcha controls, visual survey reports, and export capabilities.
Mobile App Productivity Tools

Experience maximum productivity on the go with access to Hot Leads from Marketing Automation, configurable Activity notifications by type, native calendar integration, and a refreshed user interface.
Personalized Home Screen

Start your day from the all-new, personalized home screen. Make customizations to see what's most relevant to you and improve your daily productivity.
Modernized Look & Feel

Experience the modernized look and feel of Act! complete with a user-centric design approach, fresh colors, and all-new icons. This new in-product design is not only visually pleasing, it helps you interact with key areas of Act! that aid in getting work done quickly and efficiently, or do the work for you.
Marketing Automation Features & Insights

Quickly start your marketing efforts using turnkey, pre-built campaigns that make it easy for you to send sales promotions, sales emails, webinar and event invitations, welcome emails, ongoing newsletters, and so much more. Additionally, enjoy quick access to powerful Marketing Automation features and insights from the contact record—send a tracked email, add the selected contact into an existing campaign, and see scoring and campaign data.
UPGRADING YOUR ACT! SOFTWARE IS EASY
Backup your database and then install your software. Next open your database and it will update to the latest version. In addition please see the article for more info: How do I upgrade to Act! v25 from a previous version. Also be sure to review the Act! System Requirements before you upgrade.
NOT CURRENTLY ON AN ACT! SOFTWARE SUBSCRIPTION? – You may qualify for a 1st Year Discount on the Act! Premium Desktop Subscription by being a Previous Act! Version Customer – visit our estore for pricing. If you want the Act! Premium Cloud Subscription click here to start your 14 day trial.
If you have questions click the CHAT button or click the link to visit our Contact Us web page.